Disarming Khomeini
NLA displays $2 billion in war booty
The compact rows of huge Chieftan tanks alongside smaller reconnaissance Scorpions are reminiscent of the large arms exhibitions in Britain. But in sweltering heat (50 C) and dry desert surroundings are in stark contrast to the British countryside. Here, in a military garrison at the Iran-Iraq border strip, the National Liberation Army of Iran is exhibiting some of its war booty.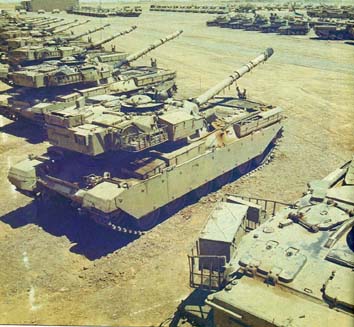 Of the 54 tanks captured, 38 were British-made Chieftan main battle tanks, the best in Khomeini's arsenal.
Across a dusty levelled area of 10,000 square meters, orderly rows of tanks, personnel carriers, anti-aircraft weapons, guns of various calibers, mobile rocket launchers, fuel storage tanks, tank transporting trailers, command jeeps, and vehicles of various makes -- some with Iranian license plates-- can be seen. Also on exhibit in a large 3,000 square-meter hanger, are light weaponry, electronic equipment, and more advanced weapons such as US TOW anti-tank missiles, remnants of the Irangate fiasco.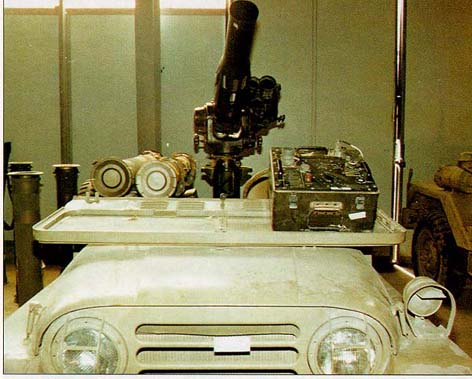 The US-made TOW optically-guided anti-tank missle was quite a prize in the NLA's foray against Khomeini's 16th armored division.
According to Commander Reza Mannani, the person in charge of the NLA exhibition, this material was seized only during the Fort Stars operation, which liberated the western Iranian town of Mehran last June( 1988). "They had precise information about our assault and had turned Mehran into a fortress, an arsenal," Mannani asserts. Neverless, the NLA captured Mehran and its surrounding heights in intense fighting. A triumphant smile appeared on Mannani's face as he continued, "For three whole days, our trailers shuttled back and forth transferring the booty behind lines. We did not leave a thing, because we knew how much Khomeini paid for all this weaponry."
The quality of the arms is striking. Mannani explains that a large number of damaged weapons, even more than those on exhibit, were destroyed at the site by NLA combatants. Only the serviceable items were transferred behind the lines.
All the weapons are branded with the Khomeini regime's insignia. Their marks indicate that most belong to the 16th armored division of Qazvin., and some to the Guards Corps and the 11th Amir-al-Mo'menin division. Mannani says the NLA experts estimate that $2 billion in war material was captured from Khomeini's military during the conquest of Mehran.
Mahmoud Bani-Hashemi, an NLA military expert, was a major in the regular military before joining the Resistance. He believes "such a large collection of weapons would be the envy of many Third World armies. If correctly deployed, these weapons can be used to defend not only Mehran but a greater portion of the front. Therefore, their seizure by the NLA is a clear indication of the disintegration of the mullha's war machine. Mehran proved to them that they have no more fighting power and that they are on the verge of collapse."